RED ANNOUNCE PARTNERSHIP WITH SIGMAT
Article by Neil Hodgson of TheBusinessDesk.com
RED announce Sigmat partnership focused on factory assembled sector
Wirral-based architectural glazing specialists RED Systems is forming a strategic alliance with one of the country's leaders in light gauge steel framing systems.
RED has announced it will join forces with Leeds-based off-site experts, Sigmat.
The firm specialises in the design and manufacture of aluminium glazing products for a wide variety of sectors.
RED which has offices in Neston and London, will be working alongside Sigmat on the launch of the firm's new luxury housing division.
The partnership has been formed on the back of the firms' combined success in the residential sector.
RED Systems will be working alongside Sigmat's in-house design teams to provide factory-installed window systems for the new bespoke housing range, as well as a number of commercial projects.
The team have already created a bespoke bracket to kick-start the project which enables products to be factory assembled.
RED Systems managing director, Michael Green, said: "We are absolutely delighted to have formed this strategic alliance with Sigmat. Their design and development credentials, combined with their industry-leading products, makes this a hugely exciting opportunity for us.
"We are massively interested in MMC and see this being a significant part of the construction industry moving forward. More than anything, though, we see this partnership as a real 'meeting of minds'.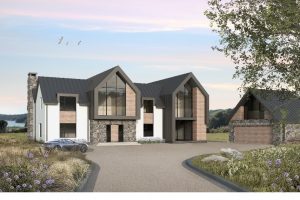 One of Sigmat's designs
"By combining our knowledge we are confident that we will be able to create an outstanding solution and complete rapid dry envelope solution for the industry. We have already had a high level of interest from our existing clients who are keen to explore MMC."
Sigmat, which has pioneered the development of modern methods of off-site construction over the past 20 years, is now focused on the design, manufacture and installation of light gauge steel frames for the UK construction industry.
Its commitment to innovation has seen the firm deliver the building superstructures of more than 300 high-profile projects in a variety of sectors across the UK and its state-of-the-art manufacturing facility in Leeds produces vast quantities of bespoke product to meet the ever-growing demand for modern construction solutions.
Sigmat chief executive, Mark Eburne, said: "This partnership represents the culmination of a significant amount of research and development into delivering fully glazed units for both our new luxury home division and existing commercial clients across the UK.
"RED Systems share the same passion for creativity and innovation as we do here at Sigmat, so they were the perfect choice when it came to appointing a forward-thinking glazing partner.
"We are excited to be able to tap into RED's expertise as we continue our ongoing programme of research and development and look forward to working with them on a whole range of industry-leading initiatives in the coming months."
Article by Neil Hodgson of TheBusinessDesk.com
Full Article Here: https://www.thebusinessdesk.com/northwest/news/2066463-glazing-firm-in-partnership-focused-on-factory-assembled-sector